---
Well here you are. You made it! This is the place where you get
to view my guestbook... the things that you and my other guestbook
signers have to say about Lunar Circle. Feel free to add comments
by using the 'sign my guestbook' link, on the main page.


Name
wow
Date
wow

Comments

Chesia
8-5-99
"I like your site, there's a real need out there
that your products speak well for."
anonymous
8-2-99
"The color references are helpful. Thankyou."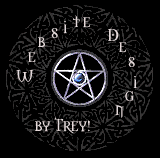 Statements shown here are done with the sole discretion of the webmistress. No profanity will be posted.